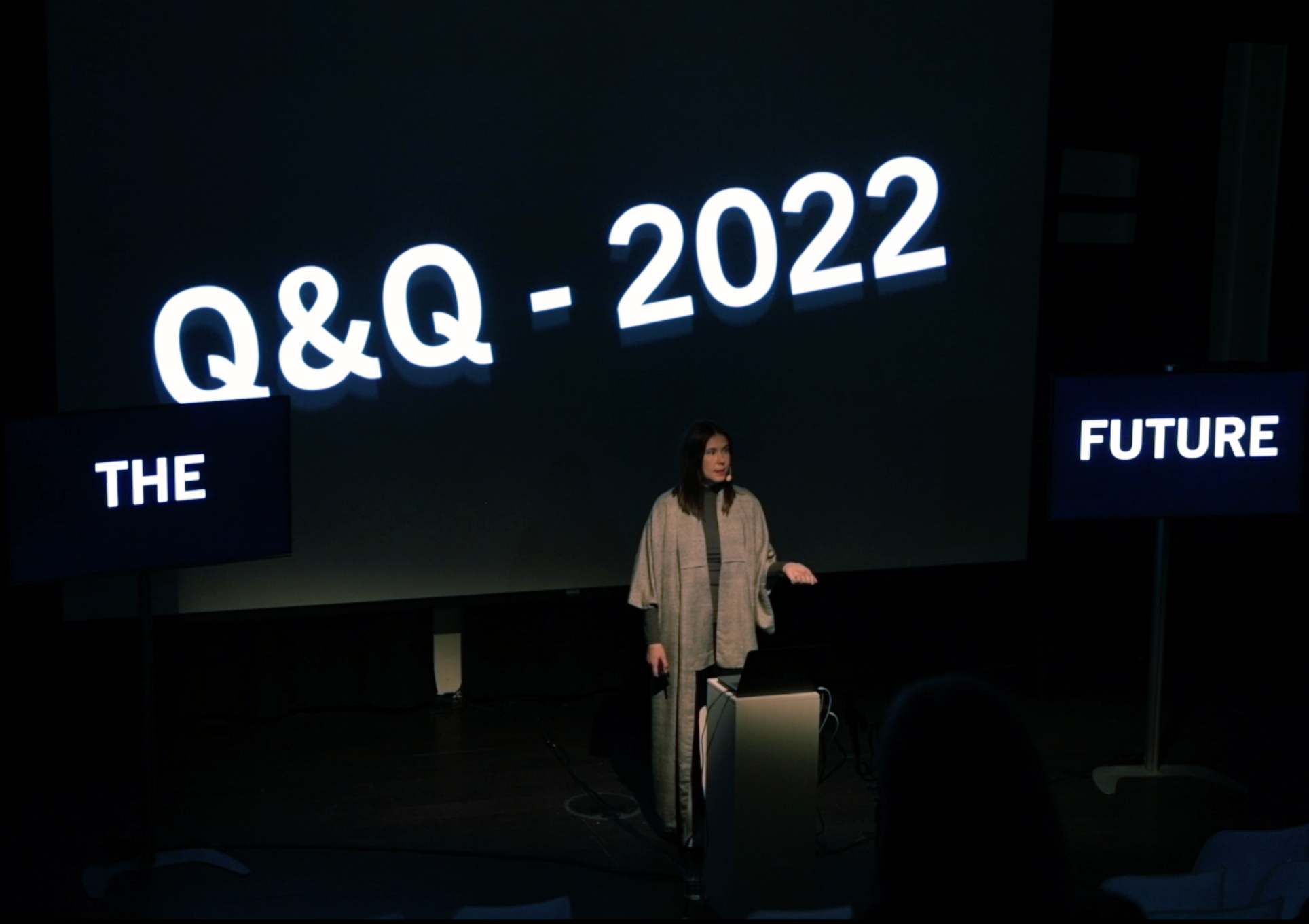 Q&Q-2022 (future edition)
2022
Lecture performance
(ongoing research)
A new lecture-performance on the transdisciplinary project "Q&Q-2022" concerning questions about the future from multiple vantage points, both temporal and local.
2022 is the future that the project first aimed its gaze toward (we're in it now, how does it feel?) and it is now possible to provide some answers, or perhaps, send some of the questions back to the past – or further forward in time.
Will it still be reasonably easy to find a bookstore?
What will happen to the ocean?
Will North and South Korea be united?
Will people still take pictures of everything they eat/see/do?
These are just a few of the questions from the project, which collects and shares questions from the public about what the future will be like, 10 years into the future. First initiated in March 2012 as a participatory installation at the art institution ExitArt, New York, the project ran for the course of one year, including the addition of an online version, which was developed in collaboration with New Museum, New York. Through the online form, questions came in from all over the world, accumulating into an archive of questions and concerns of that precise moment in time.
The first "Q" in the title references "Telex: Q&A"—a project organized in 1971 by New York-based E.A.T. (Experiments in Art and Technology) as part of the exhibition "Utopia & Visions: 1871–1981" at Moderna Museet, Stockholm. E.A.T. envisioned "a world-wide people-to-people communication link to explore aspects of life in 1981", and it involved the installment of telex machines in four cities around the globe; in Stockholm, New York, Tokyo, and Ahmedabad. Local participants from each city were then invited to send questions (and suggested answers) via telex about 1981 – ten years into the future – to the other sites. The second "Q" in the title stands for the new questions that are produced in the present (so far, in 2012 and 2018).
Performed at World Academic Forum, Stockholm Summit, at Konstfack University of Arts, Crafts and Design, on May 19, 2022.