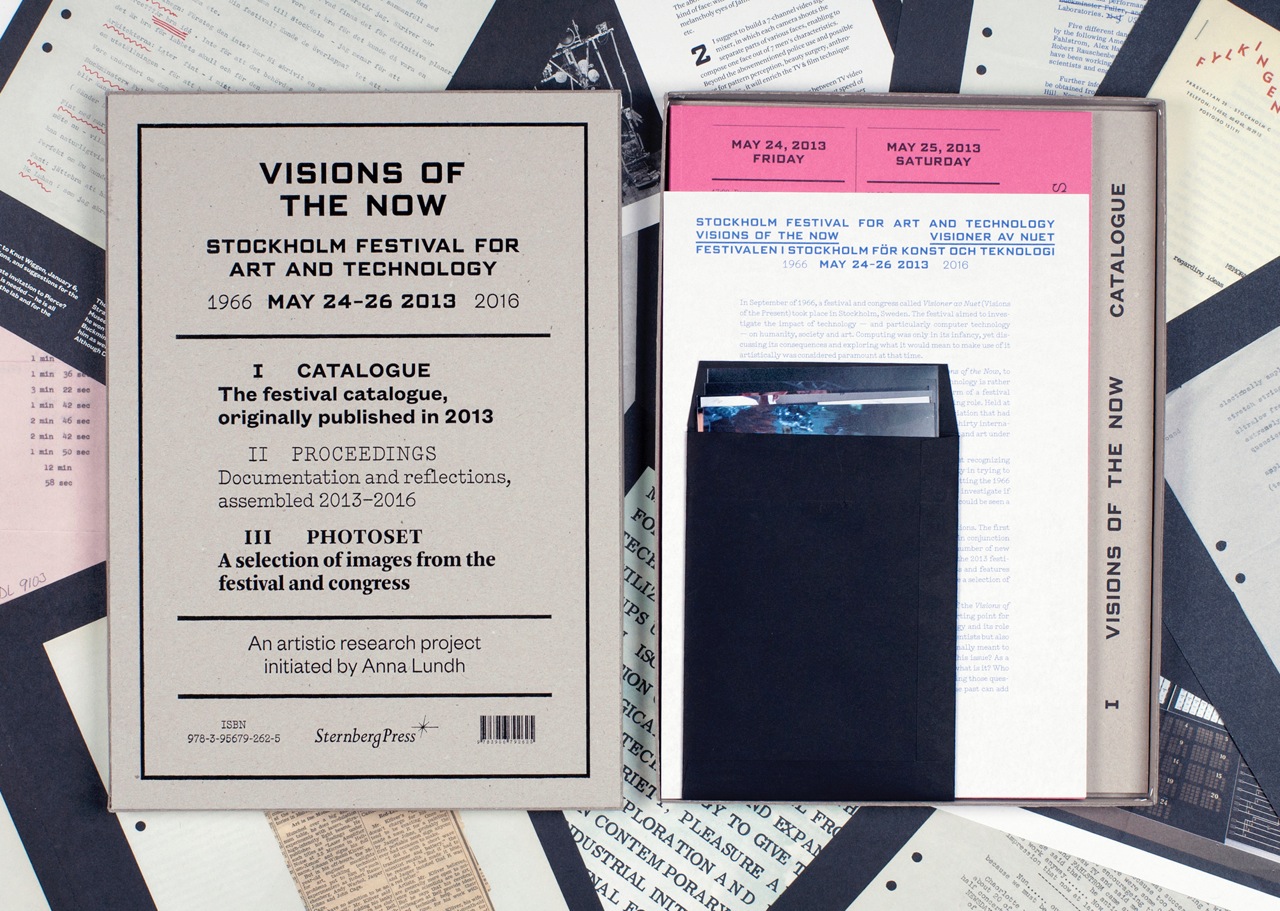 VISIONS OF THE NOW – Stockholm Festival for Art and Technology
Publication, Published by Sternberg Press, 2017.
Visions of the Now. Stockholm Festival for Art and Technology
Edited by Anna Lundh and Julie Cirelli
Graphic Design by Konst & Teknik
Sternberg Press, Berlin
184 pages, 23 × 34 cm, ca. 100 images, two volumes in a box,
ISBN 978-3-95679-262-5
This multi-volume archive box contains the documentation of the artistic research project Visions of the Now, a festival created by Anna Lundh in 2013.
In 1966, the art and music society Fylkingen organized the festival and congress Visioner av Nuet ("Visions of the Present") at The Museum of Science and Technology in Stockholm. The event aimed to investigate the impact of technology on humanity, society and art, under the themes of TECHNOLOGY (main topic), IMAGE, MUSIC, LANGUAGE, and ENVIRONMENT.

In 2013, almost half a century later, artist Anna Lundh produced an updated version of the festival, to reconsider its original concerns in a world fully immersed in the technology that in 1966 was called "the new". What lies in the "and" of art and technology now? Who is occupied with technology and its role in society? Which values do we want to maintain, and which should we challenge? Visions of the Now gathered over thirty international artists, musicians, theorists and scientists, in a series of lectures, panels, open discussions, art and music performances.
With contributions by: Katja Aglert, Cecilia Åsberg, Lars-Gunnar Bodin, Rosi Braidotti, Tyler Coburn, Brian Droitcour, Mathew Dryhurst, Katarina Elvén, Luke Fischbeck (lucky dragons), Jacob Gaboury, Jennifer A. González, Goodiepal, Sanne Krogh Groth, Gry Worre Hallberg, Hannah Heilmann, Holly Herndon, Natalie Jerenijenko, Jacob Kirkegaard, Siri Landgren, Kristin Lucas, Magnus Larsson, Anna Lundh, Julie Martin, Astrida Neimanis, Laurel Ptak, Sten Ternström.
On Saturday October 28, Fridman Gallery in New York hosted the international release of the publication. Index Foundation, Stockholm hosted the Sweden release on November 17, 2017. Both events included an artist talk, which unpacked the project through the archive box.
To buy! or look in online bookstores, or get directly from me (for special price)